---
Journey to Hamburg
Photos of Hamburg by Chris Beel
Outbound 8th October 2019, return 10th October 2019.
---
Driver Chris Beel,
Navigator Chris's Sat Nav and Felix Mottram!

Driving from Calais (after a wrong turn instruction from the Sat Nav) to Hamburg was initially towards Brussels, turning left towards Antwerp, round the ring road then towards Apeldoorn. We then headed east towards Osnabrück in Germany where we turned north towards Bremen. The last section on the run in to Hamburg was marked by heavy rain which thankfully cleared as we were arriving on the outskirts of the city as dusk fell!

We crossed the Elbe via the tunnel to the west of the port area and reached the north west part of the city near the airport, then using the iPhone to navigate the residential streets to get to Borsteler Chausee:-

Entrée Groß Borstel Garni Hotel
Borsteler Chausee 168
22453 Hamburg
Telephone: 040 5577880

Checked in and probably knocked back the complimentary beer before asking where we could eat locally. We were directed to a Greek Restaurant at the corner of Köppenstraße:-

Borsteler Chaussee 120
22453 Hamburg
Germany


It turns out that Köppenstraße is named after the director of the Meteorological site at Groß Borstel where various kite designs were made and flown at the beginning of the 20th Century!

It was an excellent meal in what was evidently a popular venue.

In the morning after a good breakfast at the Hotel we made the short journey down the street to load the kites:-

Wolkenstürmer - Sybille Lienau GmbH
Borsteler Chaussee 85-99A
22453 Hamburg
Germany

Initially there was some doubt as to whether they would all fit but all was well and we did not have to de-spar anything.

We parked up back at the hotel and then set off on foot towards the Lattenkamp 'Underground' Station, very much above ground at this point...


---
We got out at Meßberg on Willy-Brandt-Straße and made our way via the old dockside buildings towards the Elbphilharmonie where we were told there were good views of the city and the docks:-
There were long but quick moving queues of people heading in and up the very long escalators. There was no charge but there were controls on the number of people allowed in the building at any time. The views were great and the ambiance very positive. We did stop for a coffee at this point.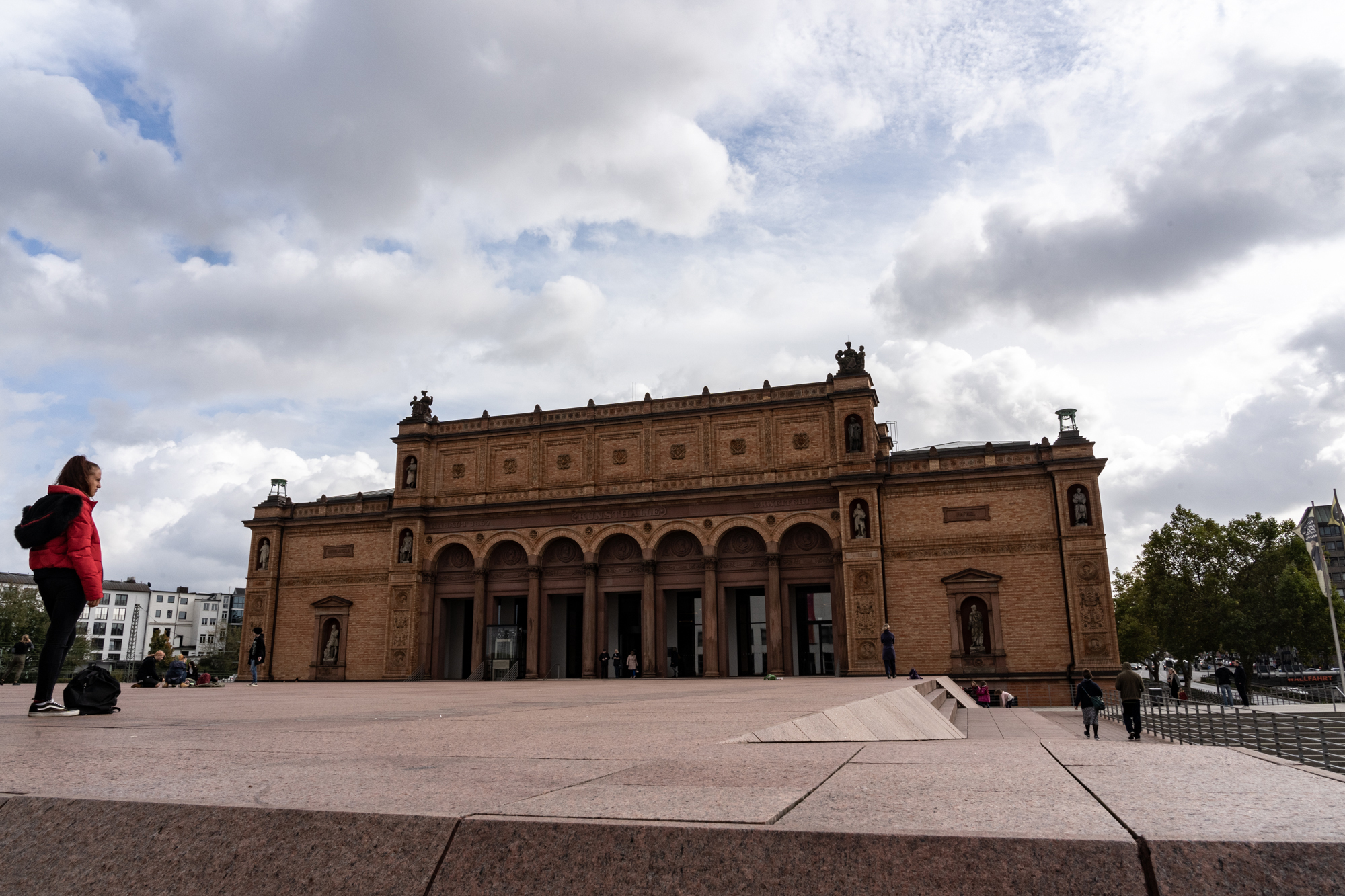 Hamburger Kunsthalle
Glockengießerwall 5
20095 Hamburg
Germany

On arrival at the Kunsthalle we found a bite to eat, a sausage or two were involved, and a beer. Then it was a case of a fairly speedy reconnaissance of the institution, as you do! The Caspar David Friedrich paintings did make an impression but at this distance in time I cannot remember specifics. There were also some interesting paintings of internal views of buildings…


Moving on we headed for Deichtorhallen:-

Deichtorhallen
Deichtorstraße 1
20095 Hamburg
Germany

There was a fairly substantial exhibition of early works by 20th Century German masters, Baselitz, Richter, Polke and Kiefer. The Baselitz paintings were of particular interest to me...


After all this culture we decided to head via the underground to the vicinity of our dinner appointment and found ourselves at a Bar at 14 Hegestraße. This was a civilised venue at which to rest our legs!


We then joined Karin, Fritz, Sybille and Jürgen just around the corner, in an Italian Restaurant at:-
Lehmweg 58,
20251 Hamburg,
for a very pleasant meal. We gratefully accepted a lift back to the hotel and checked the kite packed vehicle before getting an early night ahead of the return journey.


It was a good 'German' style breakfast at the hotel again before setting out for Calais. Our return route ended up going past Eindhoven which I had driven to in an entirely different age. (Late 70's)


There was a slight problem with our crossing from Calais back to the UK so we found an early evening meal in Calais before the time of the booked crossing. When we arrived back at the terminal it transpired that we were actually a week early according to the booking. There was a story in there somewhere but needless to say we did make it back to London in reasonable time.


We had been expecting to collect three kite 'compositions' but a forth one, the Yakko Stack was an interesting addition for which there was just room in the vehicle.
---
Site Updated October 2020 Felix Mottram